PONDICHERRY UNIVERSITY CONVENTION CUM CULTURAL CENTRE AND GUEST HOUSE
University Guest House is a part of University Convention – cum – Cultural Centre which is situated on the East Cost Road opposite to Pondicherry Engineering College, in a separate campus 14 kms ahead of Pondicherry town.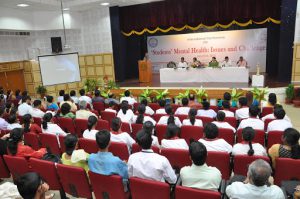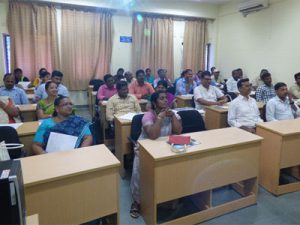 •  Air-conditioned and fully equipped Auditorium of 360 seating capacity.
•  Two Air-conditioned halls with 80 seating capacity each.
•  20 fully furnished Air-conditioned double bedded rooms.
•  4 fully furnished Air-conditioned Suites.
•  Air-conditioned Dining hall of 50 seating capacity.
•  Rental charges, boarding charges and other norms are framed by Guest House Management Committee.
•  Full fledged kitchen activities have been introduced (Breakfast, Lunch and Dinner prepared in the Guest House and provided to the guests).
•  International/National seminars/conferences /workshops/symposium have been conducted in the Convention cum Cultural Complex.
•  Guest amenities have been provided in the rooms like Shaving Kit, Dental kit, Comb, "for your care kit", soap, Moisturizer, Shampoo, Talcum Powder, Coconut Oil, Toilet rolls and Bathroom Slippers.
•  Round-the-clock Personnel are available for attending to the guests' needs.
•  DTH services have been provided in all the rooms.
•  100 % power backup facility is available in the guest house.
•  Overall appreciation has been received from the guests for good maintenance, cleanliness and service.
Guest House Contact Numbers
Office Number : 0413 – 2655070 / 2654721
Assistant Registrar : 94432240503
Caretaker : 9487540503