Ph.D. from Delhi University 2009 (Anthropology). Title: Health Conditions of Textile Workers of District Varanasi, Uttar Pradesh. M.Sc. (2003) and B.Sc. (2001), from Delhi University.
Author of Eleven (11) books-5 Text Book, 3 Reference Book, 3 Edited Books.
Published 104 papers and articles. 19 lectures telecast on Swayam Prabha Channel (Free D.T.H. Channel for Education)- Ecological Anthropology: Cultural and Biological Dimensions.
Prepared the Physical and Financial Annual Progress Report, Ministry of Rural Development, Govt. of India (2009-2010).
Written 50 Units/Modules for IGNOU and P.G. e- Pathshala (An Ministry of Education Project under its National Mission on Education through I.C.T. (NME-ICT).
Recorded 47 Videos Lectures for paper Anthropology, under e-PG Pathshala Project.
Submitted UGC-Major Research Project (2016-2019).
Research Guidance: 3 Ph.D.; 5 M.Phil; 31 M.A. /M.Sc.
Editor-In-Chief: Anthropo-Indialogs – An Open Access Peer Reviewed Journal http://arfjournals.com/Archaeology/ai
Editorial Board Member and Reviewer of more than 30 International and National J
Participated and Presented in more than 100 International and National Seminars, Workshops, Lectures, Exhibitions, Orientation Courses, Refresher Courses and Summer Courses.
Appointed as a Nodal Officer for the Student Satisfaction Survey under the PMMMNMTT scheme, Ministry of Human Resource Development.
Delivered several Endowment Lectures, Keynote Addresses, Invited Speaker and Special Lectures.
Convener of several International Panels -IUAES, Manchester, United Kingdom (2013); IUAES Inter-Congress, Bangkok, Thailand (2015); IUAES Inter-Congress, Poznan, Poland (2018).
Lifetime Membership in many Educational Bodies.
Deputy Chief Warden of Pondicherry University Hostel.
Developed a Physical/Biological Anthropology Lab- Department of Anthropology, Pondicherry University, Puducherry.
Received several academic Awards-Best Rapporteur Award 2018, The Indian Council of Social Science Research, New Delhi; Certificate of Excellence in Reviewing award 2018, 2019; Indian Psychological Association (I.P.A.) Academic Excellence Awards 2020, the Indian Psychological Association, Department of Psychology, Punjab University, Chandigarh; Certificate of Excellence in Reviewing award 2020; Best Paper Award-The University Sains, Penang, Malaysia 2012; The Dr A. Sharma Memorial Best Paper Award, The University of Delhi, 2015.
Participated in various Anthropological Development Programmes.
Database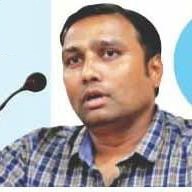 (M): 09791201427 (Whatsapp); 8122594335
rpgajeet@gmail.com, rpgajeet@pondiuni.ac.in
Tuesday, 19 September, 2023
Wednesday, 2 August, 2023