Puducherry is situated on the Coramandal coast, 160 kms. south of Chennai. It is now a growing city and the capital of the Union Territory bearing the same name.
Puducherry, which attracted the French to settle here two centuries ago still carries several marks of French culture and heritage. It is also the place where the national poet Shri Subramania Bharathiar wrote several of his masterpieces that fanned the flames of freedom and also enriched modern Tamil literature. Bharathidasan, a staunch disciple of Subramania Bharathiar, whose poems stressed social revolution and emancipation of women, was also an eminent son of Puducherry.
The intellectual activities are fostered in many of its institutions such as Sri Aurobindo Ashram and the French Institute which caters to research needs in Science, Indology and Culture. The Romain Rolland Library which is more than 150 years old and preserves a rich collection of several rare French and Tamil manuscripts, is a veritable repository of treasures.
The Puducherry Museum houses rare kinds of pottery from the Arikkamedu site which was a bustling port city in the first century A.D. where Roman ships called in for trade and friendship. Some of the other places worth seeing are Auroville, Beaches, Backwaters, Lake and Garden, Temples, Churches and Mosques, Heritage Buildings and Monuments. Puducherry Tourism provides more detailed information in this regard.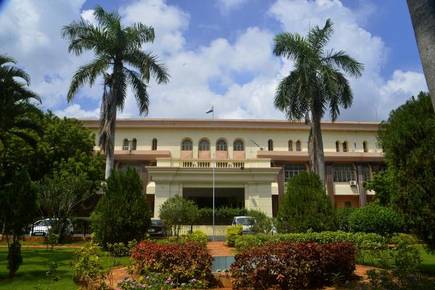 Pondicherry University is a Central University established by an Act of Parliament in October 1985. It is an affiliating University with a jurisdiction spread over the Union Territory of Puducherry, Lakshwadeep and Andaman and Nicobar Islands. The University's objectives are to disseminate and advance knowledge by offering teaching and research facilities, to make provisions for studies in French and integrated courses in Humanities and the Sciences, and to promote interdisciplinary studies and research. 
The University's motto is 'Vers la lumière' meaning 'towards the light'. The main campus is located at Kalapet, 10 kms from the town of Puducherry, in a serene and beautiful campus of 800 acres adjoining the scenic Bay of Bengal.
The University also has campuses at Karaikal and Port Blair which currently offer P.G. and Doctoral programmes.
The University has entered into MoUs with a good number of reputed International Institutions in India and abroad for collaboration and faculty development.
The salient features of the University include: